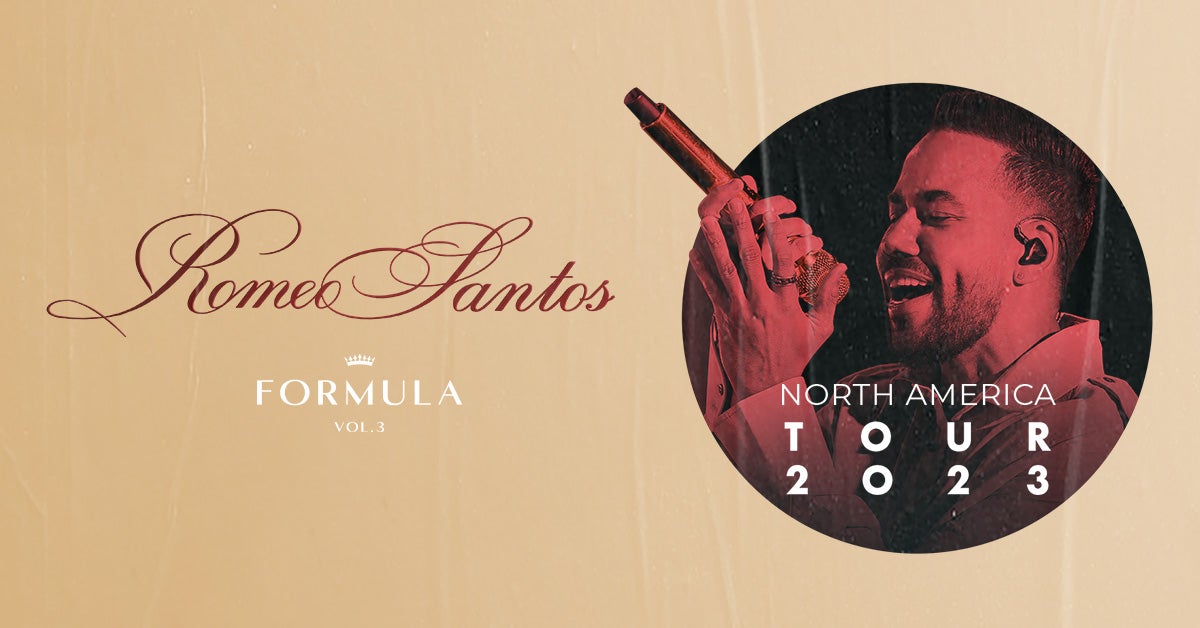 ROMEO SANTOS "THE KING OF BACHATA" ANNOUNCES ADDITIONAL FALL DATES FOR HIS NORTH AMERICAN "FORMULA VOL. 3" TOUR
New York, NY (May 15, 2023) - Today, due to the overwhelming demand by fans, the record-breaking global icon, singer, songwriter, performer, mogul, actor and producer, Romeo Santos, known as "The King of Bachata," announced additional Fall tour dates to his "Formula Vol. 3" Tour in North America, which is set to kick off June 3rd at SoFi Stadium in Inglewood, California. "The King of Bachata" has added 22 more Fall dates to the North American run that will resume on October 4th in Fresno, California and conclude on November 25th in Toronto, ON, with more dates to be added!
Pre-sales for the added Fall dates begin on Tuesday, May 16th at 10:00 am with the general public on sale Friday, May 19th at 10:00 am at ForumulaVol3.com
"Formula Vol. 3" North American Tour Dates
June 3rd, 2023 - SoFi Stadium (Inglewood, CA)
June 9th, 2023 - Citi Field (Flushing, NY)
June 16th, 2023 - IoanDepot Park (Miami, FL)
June 24th, 2023 - Minute Maid Park (Houston, TX)
October 4th, 2023 – Save Mart Center (Fresno, CA)
October 6th, 2023 – Chase Center (San Francisco, CA)
October 7th, 2023 – Oakland Arena (Oakland, CA)
October 11th, 2023 – Toyota Arena (Ontario, CA)
October 13th, 2023 – T-Mobile Arena (Las Vegas, NV)
October 14th, 2023 – Footprint Center (Phoenix, AZ)
October 15th, 2023 – Pechanga Arena (San Diego. CA)
October 17th, 2023 – Don Haskins Center (El Paso, TX )
October 20th, 2023 – Bert Ogden Arena (Edinburg, TX)
October 21st, 2023 – AT&T Center (San Antonio, TX)
October 22nd, 2023 – American Airlines Center (Dallas, TX)
October 24th, 2023 – Allstate Arena (Rosemont, IL)
October 27th, 2023 – Bridgestone Arena (Nashville, TN)
October 28th, 2023 – Spectrum Center (Charlotte, NC)
November 3rd, 2023 – Santander Arena (Reading, PA)
November 5th, 2023 – Capital One Arena (Washington, D.C.)
November 7th, 2023 – TD Garden (Boston, MA)
November 8th, 2023 – Prudential Center (Newark, NJ)
November 12th, 2023 – State Farm Arena (Atlanta, GA)
November 14th, 2023 – Amway Center (Orlando, FL)
November 22nd, 2023 – Bell Centre (Montreal, QC)
November 25th, 2023 – Scotiabank Arena (Toronto, ON)
Recently, Santos kicked off his tour, "Formula Vol. 3 - The Tour" in Europe and South America for 2023. He broke record sales in Lima, Peru with four sold out stadium dates for 80,000 people. In Chile, Romeo Santos sold out nine stadium dates in Arena de Santiago for a total of 120,000 fans. In Madrid, Spain, Santos sold out four nights and added dates to certain countries that were sold out shows. Ongoing dates in South America and Europe continue for the "Formula Vol. 3 - Tour" with breaking stadium records for a performer.
On May 20th and May 21st, Romeo Santos will make his stadium presence in Puerto Rico for the first time in the Hiram Bighorn Stadium. After, he will perform on May 27th at the iconic Coliseo (Colosseum) de Puerto Rico, which is currently sold out.
This April, he made a groundbreaking debut with an exclusive interview on the Tonight Show with Jimmy Fallon. In addition, he presented a blended performance of his two recent mega hits "Mi Suegra" and "Solo Conmigo" from his latest album, "Formula Vol. 3."
"Formula Vol.3," his fifth solo album, is multi- platinum for its sales and currently obtains +1.1B streams. Today, Romeo is one of the most listened to Latin artists on Spotify and viewed on YouTube. In 2014, Santos made a big milestone by making history after selling out several shows at NY Yankee Stadium (50,000 people) and being one of the first Latin artists at a young age to sell out stadiums. In his career, Santos has sold out Met Life, Dodger, Hard Rock, NY Yankee's Stadium (several times) and Wrigley Stadium to name a few. Romeo Santos has broken charts and achieved a "Spanglish" tone, and crossing-over top international artists into his bachata blend such as Justin Timberlake, Usher, Drake, Karol G, Lil Wayne, Akon, Nicki Minaj, Carlos Santana, Marc Anthony, Bad Bunny, ROSALÍA, Enrique Iglesias and many more.
For more information on Santos' "Formula Vol. 3," please visit: www.formulavol3.com